The 1950s

Printer-friendly version
The 1950s were the atomic age of science and technology. "Modern" was synonymous with space-aged and comfortable. The end of World War II gave rise to a wave of servicemen with new jobs starting new families in new homes. Industries expanded and Americans bought goods not available during the war. The baby boom had begun in the midst of the Cold War. Here at the Los Angeles federal courthouse, fourteen Communist party leaders were charged with conspiracy to teach and advocate the overthrow of the United States government by force and violence in violation of the Smith Act of 1940. On August 5, 1952, in a jury trial before U.S. District Judge William C. Mathes in Los Angeles, the defendants were convicted and sentenced to five years of imprisonment and fined $10,000. The U.S. Supreme Court later reversed their convictions in Yates v. United States (1957).
The House Un-American Activities Committee returned to Los Angeles in March 1953 to discover names of supposed Communist members. Hearings opened on March 23rd in Room 518 of the Los Angeles federal building before a roomful of spectators and television cameras. Throughout seven days of hearings, the Committee questioned individuals, including members of the entertainment industry and teachers' unions, about their affiliation with the Communist Party and participation in its activities. Although many declined to answer questions, some admitted to using movies to promote Communist values and others revealed the names of fellow Communists.
The United States also wanted to pay reparations to the many Japanese Americans displaced during World War II, so in 1948 Congress passed the Japanese American Evacuation Claims Act, authorizing the settlement of property loss claims for those forced to leave their homes for internment camps during World War II. Mildred Younger gave a statement in support of the Claims Act at the Los Angeles federal building on September 1, 1954. Younger was notable for winning the California State Senate Republican primary in 1954, but losing to Democrat Richard Richards. She was also well-recognized for giving a speech seconding Earl Warren's nomination for president at the 1952 Republican National Convention.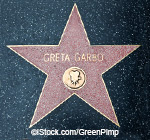 Mildred Younger was not the only celebrity to appear at the courthouse during the 1950s. Greta Garbo, a Swedish actress, signed her citizen certificate on February 9, 1951, after taking her citizenship oath before U.S. District Judge William M. Byrne, Sr. Garbo said after, "I am glad to become a citizen of the United States." Anne Douglas, a Belgium native, came to the Los Angeles courthouse on November 25, 1959, with her husband, actor Kirk Douglas, to become a naturalized citizen before U.S. District Judge Leon Yankwich. Hollywood notables also permeated into government positions. A Hollywood businessman and civic worker named Otto K. Oesen was sworn in as the Los Angeles postmaster at the Los Angeles federal building on August 18, 1955. Former Chief U.S. Judge Paul McCormick administered the oath before an audience that included Senator William Knowland.
Celebrities also had cases heard at the Los Angeles federal courthouse, and Bette Davis and Mickey Cohen both made appearances there. In November 1951, actress Bette Davis gave a deposition as part of the government's civil income tax suit against her. In 1943, Davis filed a joint return with her husband, Arthur A. Farnsworth, who died that year. Upon his death, the government claimed that all of the couple's income earned during the year was deemed solely that of Bette Davis, which would result in additional taxes of $80,823. The actress stated, "I have always paid my taxes and I still believe in American justice." Part-time celebrity and full-time gangster Mickey Cohen found himself on trial before U.S. District Judge Thurmond Clarke in 1958. Cohen, twice convicted of tax evasion, was charged with assaulting Howard Chappell, a Federal Narcotics Bureau agent. The trial resulted in a hung jury. Charges were brought a second time but later were dismissed. Cohen, an associate of Al Capone, Benjamin "Bugsy" Siegel, and Meyer Lansky, was immortalized in several books and films including Bugsy, The Black Dahlia, and L.A. Confidential.
The hectic decade was rounded out by the filming of War of the Worlds, a 1953 film loosely based on H.G. Wells' 1898 novel and following the famous radio broadcast in 1938. The movie depicted an invasion by Martians who used heat and disintegrator rays to annihilate humans and their world. A scene in which downtown Los Angeles is destroyed was filmed near the courthouse.