The 1990s

Printer-friendly version
Domestically, the 1990s was a casual decade, featuring flannel shirts, baggy pants, and the grunge look. Overseas, however, the U.S. was involved in developing military forces in many countries as well as playing mediator, policeman, and peacekeeper throughout the world. Violence seemed to be a regular part of life, including school shootings. However, unemployment was at a record low while the stock market reached an all-time high due to investors trading via the internet. Americans faced the new century with a diverse population, a healthy economy, and a functioning democracy.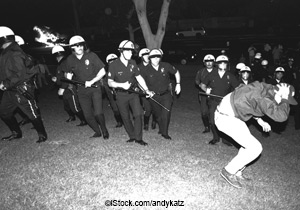 Los Angeles was hit by the wave of violence early in the decade with the Los Angeles Riots. In 1992, four Los Angeles Police Department (LAPD) officers were acquitted in state court for the beating of Rodney King, which caused the infamous riots. Charges were filed in the Los Angeles federal court by the United States Department of Justice against the officers for violating King's civil rights. Presiding over the federal trial was U.S. District Judge John G. Davies. Protesters, including Lance Parker, a defendant in the Reginald Denny case, demonstrated in front of the courthouse condemning the LAPD and racism. Denny was a white truck driver who was attacked by several African Americans during the "LA Riots." Parker was charged with firing his gun at Denny's empty truck and was later sentenced to probation. The clerk's office on the Main Street level was damaged during the riots.
Meanwhile, several notable foreign nationals found themselves at the courthouse standing trial for their actions. In 1986, the Philippine government filed a civil racketeering action against its former president, Ferdinand Marcos, and his wife, Imelda. The suit, filed in Los Angeles federal court, was assigned to U.S. District Judge Mariana Pfaelzer. The Philippine government claimed that the Marcoses embezzled $5 billion from the Philippines. A settlement was reached in 1991 under which the Philippine government recovered about $50 million, of which $9 million was in the form of cash and jewelry.
In another notable case dealing with a different foreign national, Dr. Humberto Alvarez-Machain was brought to America to face charges in 1990. U.S. Drug Enforcement Agent Enrique "Kiki" Camarena was kidnapped, tortured, and murdered by Mexican drug traffickers while conducting an investigation on drug trafficking in Mexico during 1985. Alvarez-Machain and twenty-one others were indicted for crimes connected to the murder. The doctor was abducted from Mexico and brought to the United States to stand trial for his alleged crimes. Alvarez-Machain argued that the government lacked jurisdiction because of the way he was apprehended. U.S. District Judge Edward Rafeedie agreed based upon the U.S.-Mexico extradition treaty and ordered Alvarez-Machain to be returned to Mexico. Although the U.S. Supreme Court later held that the district court did have jurisdiction, Alvarez-Machain was acquitted in the end.
One controversial policy that went into effect during the Nineties was recently repealed. U.S. Petty Officer Keith Meinhold stated he was gay during a 1992 nationally televised news program. Within three months, he was discharged from the Navy. Meinhold sued the U.S. Department of Defense in Los Angeles federal court, challenging the military policy that banned homosexuals from serving in the military. U.S. District Judge Terry J. Hatter, Jr. issued an injunction which prohibited Meinhold's discharge based on his sexual orientation. The Court of Appeals affirmed this aspect of the court's decision. In December 1993, the Clinton Administration's policy of "Don't Ask, Don't Tell" went into effect, but was eventually repealed in 2012.
In 1995, Heidi Fleiss, known as the "Hollywood Madam" in reference to her clientele, was involved in another high-profile case in Los Angeles. Fleiss began a high-end prostitution ring at age twenty-five. Charges were filed against her in 1994, and she was convicted of eight counts of conspiracy, tax evasion, and money laundering the following year. U.S. District Judge Consuelo B. Marshall denied Fleiss' motion to dismiss charges. Fleiss was sentenced to thirty-seven months in prison, twenty of which were served at a federal correctional facility, and was released from a halfway house in 1999.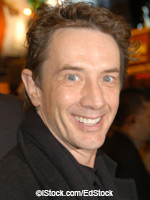 Two celebrities became citizens at the Los Angeles courthouse in the latter part of the decade: Canadian comedian, Saturday Night Live actor, and Emmy Award winner Martin Short and NBA basketball champion and former Los Angeles Laker Vlade Divac.
In 1992 Parfums Givenchy Inc. sued Drug Emporium in Los Angeles federal court for copyright infringement. Givenchy hoped to prevent the sale of its designer fragrances at discount drug retailers in the United States. Drug Emporium had marketed and sold bottles of Amarige even though it had purchased the perfume from third parties who had imported Amarige from overseas without Givenchy's authorization. Givenchy argued that the discount retailer was prohibited from the unauthorized distribution of the copyrighted Amarige perfume box design. U.S. District Judge Mariana Pfaelzer ruled in favor of Givenchy and the Court of Appeals affirmed. The case was significant because luxury goods were typically protected by trademark laws. Givenchy turned to copyright law because trademark laws protect companies from the importation of counterfeit goods and not unauthorized distribution.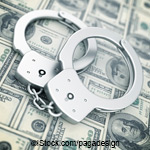 In another case decided by U.S. District Judge Mariana Pfaelzer, Charles Keating, Jr.'s twelve-year prison conviction in 1993 for defrauding Lincoln Savings and Loan and its investors was overturned. Judge Pfaelzer ruled that the jurors in the case might have been swayed by knowledge of his earlier state court conviction. In 1999, when Keating was about to be retried in federal court, he pled guilty to fraud in exchange for not being sent back to prison.